Ontario Energy Board Launches Utility Service Area Map
The Ontario Energy Board (OEB) has launched a new online interactive map that provides resource rich information about Ontario's electricity and natural gas utilities, including Burlington Hydro.
The Service Area Map has a number of features, including: 
Electricity and natural gas can be viewed either together or independently by choosing the layer.
Click on a region of the map or enter an address to find a utility; or choose a utility from the right panel to find its service area (i.e. Burlington Hydro).
Zoom in or out to narrow or expand your view; as you zoom the utility panels on the right adjust accordingly to reflect utilities in the new area.
View different types of map – e.g. topographic, street level, satellite imagery, dark/light view.
Find out the contact information for the utility and its municipality.
Download the relevant OEB documents that set out a utility's service area boundaries.  

A short instructional video can be sourced from the webpage to learn more about these features. 
Click here to assess the Burlington Hydro Service Area Map.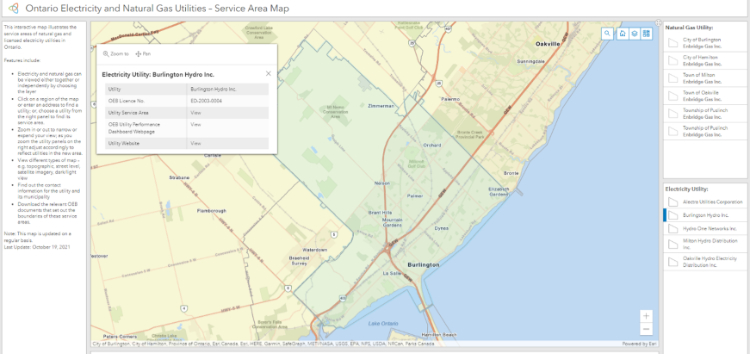 -end-